The Breezeway
Click here for a PDF Slide Show Presentation for The Breezeway! (2mb)
Accommodates: 1 - 6 people
The Breezeway Cabin features a kitchen and living room area, 2 bedrooms and a bath. A gas log fireplace, electric heaters and air conditioners provide needed warmth or coolness. Satellite TV, internet, Verizon Cell phone service and phone, local calls only, are available in the cabin.
Outside, the cabin features a deck, picnic table, lawn chairs and a fire circle. An allotment of firewood, based upon the scheduled stay, is provided.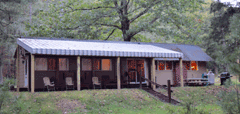 Kitchen:A fully equipped kitchen includes stovetop, refrigerator, dishwasher, microwave, coffee pot, toaster, pots and pans, dishes, silverware, cooking utensils, garbage bags, dish washer soap.
Bedrooms: The Breezeway has 2 private bedrooms; a queen bed in one room and 2 bunk beds (sleeps a total of 4) in the other. Bed linens are furnished.
Bathroom: One bathroom. Guests need to bring their own towels and toiletries.
Booking Your Reservations and Rental Rates:
We require a three night minimum stay throughout the rental season from mid-April to the end of October.

Book your reservation on-line or call Pine Village. Book on-line by selecting the "BOOK NOW" icon and complete all reservation information. You must enter a credit card for your reservation to be accepted. You will receive a confirmation e-mail with complete information on The Breezeway and directions to Pine Village. If you do not receive an email, please make contact with Pine Village at pinevillage@hotmail.com; or call Pine Village @570-753-8223 or 814-360-4690 to make your reservation.

Please provide information on the dog in the notes section at the time of making reservation.
Rental Rates: All rentals subject to 6% State tax.
Daily rate: $135 night for up to 4 ($15.00 per person per night beyond 4)
Weekly Rate: $800 for 4 people.
Dogs: Fee is $20/night/dog; $100 for a week.
One-half the rental fee is due upon booking your reservation; balance will be due at check-in.

Cancellations: Deposits will be refunded if dates are rebooked; a 10% booking fee will be retained.
Dog Policies:
1. Dogs must be healthy upon arrival; must be up to date with vaccinations. Bring a copy of vaccination certificate.
2. Dogs must be under control of owners at all times; on leash or obedient to commands. If dogs are off leash, which is fine, they must be "other dog" friendly. We have 3 Cavalier King Charles Spaniels that we walk on the loop at least twice daily which passes by The Breezeway Lodge. They are walked off leash.
3. Dogs must be house broken. Puppies/dogs that you know have accidents in the house are not permitted.
4. You must clean up after your dog and dispose in the garbage or in the woods well off the walking path and yard.
5. If your dog is accustomed to resting on the furniture or sleeping in bed with you, we ask that you bring appropriate throws to protect the furniture and beds.
6. Dogs cannot be left unattended in the cabin unless they are crated during your time away. Keeping your dog in a bedroom with door shut or locked in the basement is unacceptable.
We accept Master Card and Visa Card.